Schedule a free consultation
630-717-7801
Passing a School Bus Violation In Illinois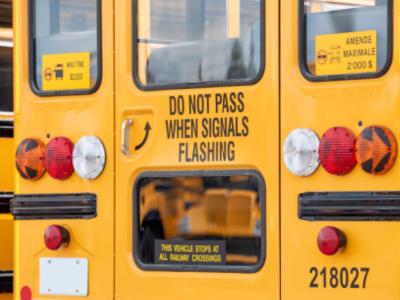 School is back in session, and odds are you've seen those big yellow buses on your morning or afternoon commute. Buses are carrying some precious cargo, which is why Illinois penalizes drivers harshly for driving illegally around these vehicles. In fact, the state just recently increased the penalties for stop arm violations. Below, we take a closer look at how school bus stop arm violations are penalized in Illinois.
What Is A Stop Arm Violation?
As the name implies, a stop arm violation is a citation for illegally passing a school bus that has its flashing warning lights and stop arm engaged. More specifically, it is illegal for a driver to pass a school bus with its lights and stop arm engaged while it is stopped to pick up or discharge passengers. It doesn't matter if it's in a roadway or parking lot, if you're caught passing a stopped school bus with its lights on and arm engaged, expect to be ticketed.
This applies to drivers heading in both directions. Even if the bus is headed in the opposite direction, you must stop so that occupants can discharge and cross the street, or for others to safely cross the street and board the bus if necessary. The only limitation here is if it is a 4-lane road (at least two lanes traveling in the opposite direction). In this instance, the vehicles traveling in either lane heading in the same direction as the bus must stop for a bus with it's stop arm engaged, but drivers headed in the opposite direction on a 4-lane road can continue to proceed past the bus with caution.
Penalties For A Stop Arm Violation In Illinois
Not long ago, the fine for illegally passing a school bus with its stop arm engaged was a minimum of $150, but that has since been increased. Beginning in 2020, the minimum fine for drivers who illegally pass a stopped school bus will be met with a minimum fine of $300. The minimum fine for subsequent offenses used to be $500, but on January 1 that was bumped up to a $1,000 minimum. Needless to say, it's not a cheap ticket.
These citations can also affect your driver's license and your automobile insurance. Depending on your driving record, traffic offenses like passing a stopped school bus can lead to a license suspension or huge increases to your car insurance premiums, so it's important to talk with a lawyer before deciding to just plead guilty and pay a fine.
At Appelman Law , we offer a free case evaluation so you can learn the potential fallout from your citation should you be convicted, and we can help defend you against the charges if you were falsely cited. Drive with caution around school buses, and make sure you at least speak with a lawyer if you find yourself facing a fine or the potential loss of your license for illegally passing a school bus in Illinois. For more information, or to set up that free strategy session, give us a call today at (630) 717-7801.